SketchUp Studio
Everything you need for designing and presenting better projects.

SketchUp Studio is the easiest way to propel your project forward with confidence. SketchUp Studio will take you from complex scan data with Trimble Scan Essentials to 3D modeling with the familiar SketchUp tools. And with V-Ray's built-in photo rendering, you'll convince your (potential) clients with stunning visuals!
System Requirements SketchUp Studio
SketchUp Studio is Windows only!
Microsoft Windows
Software:
Windows 10 or 11 - 64 Bit
WebGL compatible web browser
Hardware
Minimum System Requirements:
2.1+ GHz processor
8 GB RAM
500 MB disk space
Video card 1+ GB 100% OpenGL 3.1*
3-button mouse with scroll function
Recommended System Requirements:
2.4+ GHz processor
16 GB RAM
1 GB disk space
Videokaart 2+ GB 100% OpenGL*
3-button mouse with scroll function
Note: There is no macOS and Linux version of SketchUp Studio available and Windows 8 and earlier are no longer supported!
Video Card
* If you are looking for a new system or upgrade, please pay extra attention to the video card. We do recommend video cards with a nVidia RTX chip, preferably form the GeForce range. These cards support OpenGL very well and have qualitative drivers. OpenGL is the heart of the 3D view for SketchUp Pro. On-board video cards (soldered chipsets) are strongly discouraged! If you have any doubts about a new video card, please view this benchmark (preferably high-end).
System Check-Up Tool
In case of doubt about your system, you can download a special check-up tool here, which will test your system for the correct configuration.
Trimble Scan Essentials
Move quickly from complex scan data to a 3D proposal by importing point clouds from terrestrial surveys, mobile mapping, photogrammetry, lidar sensors, and drone shots. Don't waste time modeling contextual details, model directly on your point cloud using SketchUp's proprietary toolbox.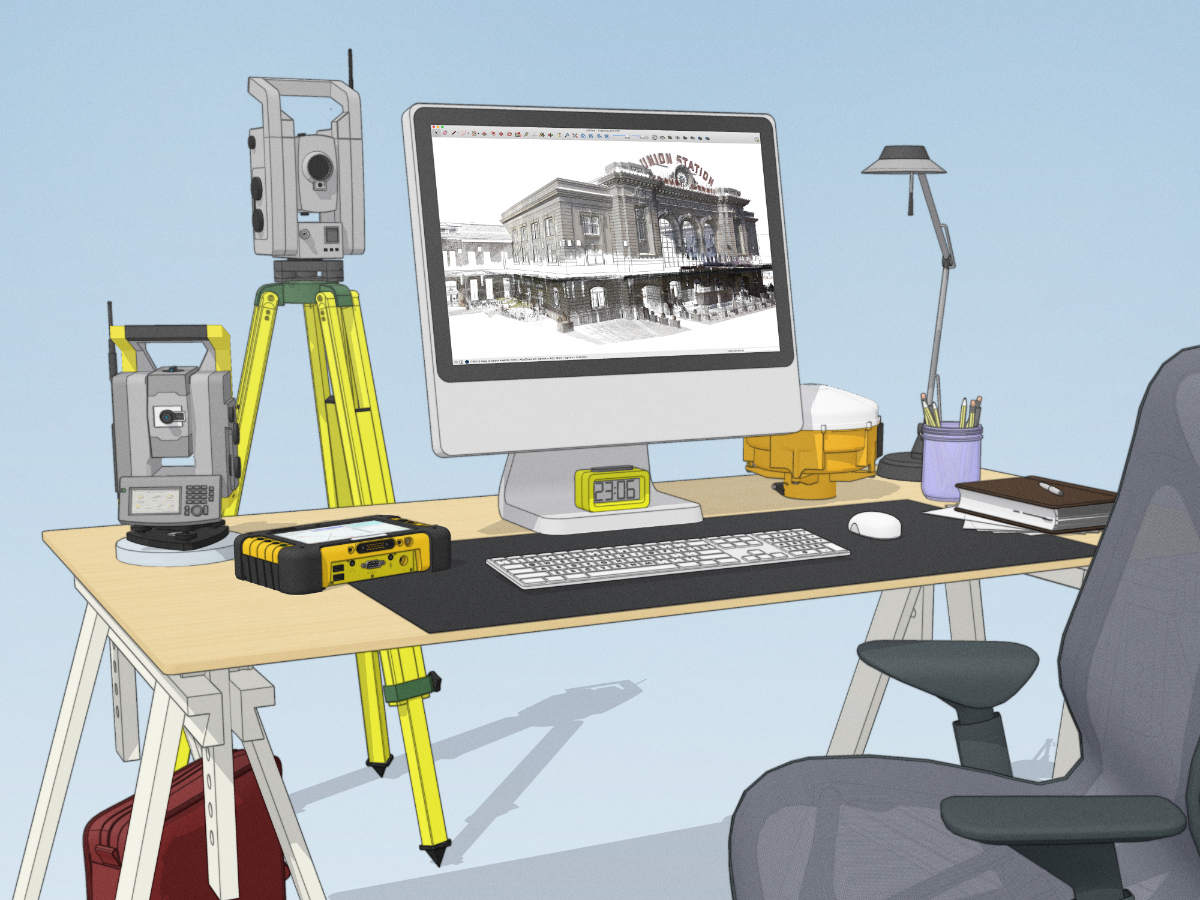 V-Ray - Top-class Rendering
With a SketchUp Studio Subscription you get access to the Render Module of V-Ray. V-Ray is a fast, high quality and very complete Render solution for SketchUp. It offers all the lighting and rendering tools you need to create professional, photorealistic images and animations. It will help you make better design decisions and excite your (potential) customers with true-to-life images of your 3D designs.
Your Toolkit
The toolkit of SketchUp Studio consists of the following components:
SketchUp Pro for Desktop
Intuitive tools and a user-friendly interface make SketchUp the easiest way to design your building in 3D.
Prepared for Presentations
Share coherent and attractive images with SketchUp, LayOut and V-Ray.
Trimble Scan Essentials
With
Trimble Scan Essentials
you have the necessary tools to import and view point clouds and model directly on them in SketchUp. The imported data serves as a blueprint for a solid 3D foundation. Whether you're renovating or constructing a new building, you don't have to start from scratch..
Seamless BIM Workflow
Convert Revit models seamlessly into SketchUp files with the Revit Importer for improved collaboration between project phases and different design teams. Revit families and layers are hereby translated into groups, components and tags in SketchUp. This saves you hours of cleaning up models.
Access anywhere
SketchUp for Web lets you model anywhere, anytime - without installing anything.
SketchUp for iPad
Create, edit and view 3D models, whether you are on a construction site, on the road or in the office.
VR & Augmented Reality Apps
View project models virtually with your customers in the office or on-site at a 1:1 scale using our AR / VR and mobile apps.